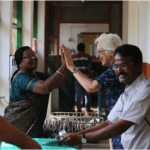 Dear Friends:
Please consider joining the E. Stanley Jones Foundation and the United Christian Ashram on a Fall 2017 visit to India and a ten-day stay at the Sat Tal Christian Ashram founded by missionary evangelist, E. Stanley Jones nearly 90 years ago.
Following your time at Sat Tal, our group will explore some of the great historic sites of North India including the Taj Mahal, Corbett Animal refuge, Jaipur, Udaipur, New Delhi and innovative educational and cultural programs. India is a land of great variety, contrasts, color and movement. We call this a missional tour as we will see the fruits of Christian faith sharing over the past 200 + years.
For the full itinerary, please click here.
In a word, a great experience awaits you. You will probably never be quite the same again. We invite you to consider this opportunity and this spiritual adventure.
Jesus is Lord!