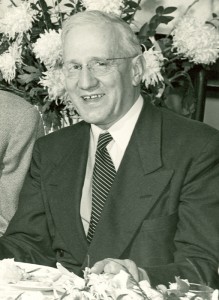 Each generation yields a few Christian leaders whose life commitment to Christ and spiritual gifts continue inspiring faith beyond their lifetimes. Dr. E. Stanley Jones (1884-1973) was such a person. As a widely known and universally admired Christian missionary and evangelist of the 20th century, Dr. Jones spent 70 years traveling throughout the world. As an ecumenical leader and spokesperson for peace, racial brotherhood, and social justice, he was a constant witness for Jesus Christ. A confidant of President Franklin D. Roosevelt, Mahatma Gandhi, and an inspiration to Dr. Martin Luther King, Jr., and numerous other world leaders, he was twice nominated for the Nobel Peace Prize.
In 1938, Time Magazine called him "the world's greatest missionary evangelist." Dr. Jones' approach to evangelism presented Christ as the universal Son of Man without the trappings of Western culture. His tireless effort in advancing the Gospel of Jesus Christ knew no bounds. He delivered tens of thousands of sermons and lectures, traveled 50 weeks a year, and often spoke two to six times a day. His message of the necessity of "surrender" to Jesus Christ and "Jesus is Lord" had a life-changing impact on the millions of people throughout the world who heard him speak or read his books.
Defining The Issue… In His Own Words

"When I first went to India I was trying to hold a very long line — a line that stretched from Genesis to Revelation, on to Western Civilization and to the Western Christian Church. I found myself bobbing up and down that line fighting behind Moses and David and Jesus and Paul and Western Civilization. There was no well-defined issue.

I had the ill-defined but instinctive feeling that the heart of the matter was being left out. Then I saw that I could, and should, shorten my line, that I could take my stand at Christ and before that non-Christian world refuse to know anything save Jesus Christ. I saw that the gospel lies in the person of Jesus, that he himself is the Good News that my one task was to live and to present him. My task was simplified"

~E. Stanley Jones
Even after a severe stroke at the age of 88 robbed him of his speech, Jones managed to dictate into a tape recorder his last book, The Divine Yes. He died in India on January 25, 1973. The remarkable legacy of this humble missionary evangelist continues to inspire Christian leaders and laity around the world. Dr. Jones had profound ideas. He saw ahead into a future where terms like "global economy" and "new world order" would be common buzzwords. He understood the transcending and unifying power of Jesus Christ. He understood the potential impact of the Kingdom of God on our world. The world needs to hear his message now more than ever.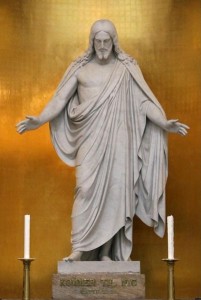 Surrender and See
E. Stanley Jones recalls the experience of viewing this magnificent statue.
"As I walked up the cathedral aisle to see the wonderful statue – I was almost overcome with awe. But as I walked along, my Danish friend whispered, "You will not be able to see His face unless you kneel at His feet. It was true, for Christ was standing with outstretched arms but looking down. I knelt at His feet, and only then was His face looking into mine. You can't really see Christ until you surrender to Him. Those who start afar off, surveying Him, never really see His face, so bend the knee. Be conquered by Him. Surrender yourself. "