Bishop Mike Lowry's Lenten Message for 2013
Lent at its best involves walking with Jesus.  I find in devotional time
that I am repeatedly drawn back to this journey with the Savior.
As a part of my devotion time, I am reading E. Stanley Jones' daily
devotions from The Way.  The devotional for February 20th in part reads:
"We must get our values straight, and the central value of the Christian
faith is Christ.  If someone replies, 'No, God is our central value and
starting point,' I will answer that apart from Christ we know little about
God.  If we try to start from God, we do not actually start from God, but
from our ideas about God. . . . Jesus is God breaking through to us. . . .
If Christ is not the center of your circle, then your circumference wobbles.
Your faith exhausts itself against the problems of life. .  . . If you begin
at any other place, you will end in chaos" (E. Stanley Jones, The Way,
February 20th).
The week before, my Spiritual Mentor had shared with me an extended quote
from John Phillip Newell, the famous spiritual leader of the Iona community.
It comes at the issue of walking with Jesus from the opposite end of the
theological spectrum.  Newell wrote:  "How do we reclaim the wisdom of Jesus
in the Christian household today and in our world of relationships?  For
many of us it has been a difficult journey.  Rightly we have been appalled
at the way in which Jesus has been hijacked by triumphalist religion.  The
truly humble one at the head of our tradition has been used to prop up an
often arrogant and irrelevant religious system.  The son of compassion has
been used to justify intolerance and even violence.  Consequently many of us
have gone silent about our great treasure.  We have been so determined to
distance ourselves from the misrepresentations of Jesus that we have failed
to articulate the true essence of Jesus.  When E. Stanley Jones, the
twentieth century American theologian who with Mahatma Gandhi helped lead
the way in Indian interfaith relationship, was asked what the uniqueness of
Christianity was, he said that Christianity's uniqueness was Jesus.  This,
of course, is the obvious answer.  But maybe, under our many layers of
doctrinal statements about Jesus, we have ended up missing the obvious.  And
we have ended up missing our greatest treasure"  (John Philip Newell, "A New
Harmony; The Spirit, The Earth, and the Human Soul").
What impresses me is where the two coalesce at the focal point of Christ.
In both cases my spiritual journey drives me back to a humble walk with the
Lord.  It is here that I live and move and have my being.  Come what may, we
cannot escape the piercing question of Matthew 16:15, which Jesus himself
puts to us.  "He [Jesus] said, 'And what about you?  Who do you say that I
am?'"
Our Lenten journey travels the road of confession or moves not at all.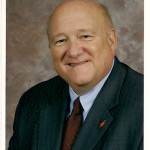 Bishop Mike Lowry is the resident bishop of the Central Texas Conference
of The United Methodist Church, where he is the spiritual leader for about
164,000 United Methodists in 320 congregations and developing faith
communities.
A 1972 graduate of Earlham College in Richmond, Indiana, Bishop Lowry
earned his Master of Theology from Perkins School of Theology at
Southern Methodist University and his Doctor of Ministry from Austin
Presbyterian Theological Seminary.  You may learn more about Bishop
Lowry here.